Scrap Buster Blocks is a series of scrap quilt block tutorials that are designed to bust through your scraps with the Accuquilt GO! QUBE Mix & Match block sets. Grab your scrap buckets/tubs/drawers, and let's make some scrappy quilt blocks!
The great thing about the GO! QUBE Mix & Match sets is that while I'm using the 8" Block set for my quilt blocks, you could just as easily use any size QUBE that you have as the shape numbers are all the same! You will just need to adjust the size of your fabric cuts accordingly.
It's also important to note that these blocks are made at 150% of the Qube size. That means that the finished quilt block will be 150% bigger than the size of the Qube set:
6" Qube – 9" (finished) blocks
8" Qube – 12" (finished) blocks
9" Qube – 13.5" (finished) blocks
10" Qube – 15" (finished) blocks
12" Qube – 18" (finished) blocks
These instructions are written a little differently to normal so that you can use whatever scraps you might have, regardless of the size of the piece of fabric – if it covers the die you need, even if it's just one small square or half-square triangle, you're good to go. This is why the cutting instructions tell you how many you need from each die in total.
Materials:
Assorted prints and background fabrics
AccuQuilt GO! Big, GO! Cutter or GO! Baby Cutter Fabric Starter Set
AQ55776 GO! QUBE Mix & Match – 8" Block set

Shape 1 Square – 4" Finished
Shape 4 Quarter Square Triangle – 4" Finished
Shape 5 Half Square Triangle – 2" Finished
Shape 8 Rectangle – 2" x 4" Finished

AQ55137 GO! Cutting Mat 6 x 6
Cutting Instructions:
From print fabrics:
Using Shape 4, cut four Quarter Square Triangles (QST)
Using Shape 8, cut four Rectangles
From background fabrics:
Using Shape 1, cut four Squares
Using Shape 5, cut eight Half Square Triangles (HST)
Sewing Instructions:
NOTE: All seams are ¼" (6mm). Press the seams open unless otherwise specified
Sew one background HST (Shape 5) to a print QST (Shape 4). Press. Sew another background HST (Shape 5) to the remaining edge to create a flying geese unit. Press. Make four.
Sew each of the flying geese units from Step 1 to a print Rectangle (Shape 8). Press.
Arrange the units and the background Squares (Shape 1) to create the block layout, and sew into rows. Press seams open.
Sew the rows together. Press seams open.
Outside the Block
The last part of these tutorials for Scrap Buster Blocks will include some various quilt layout options to inspire you to think outside the box (or block!) of how you can use these blocks to create fun quilts.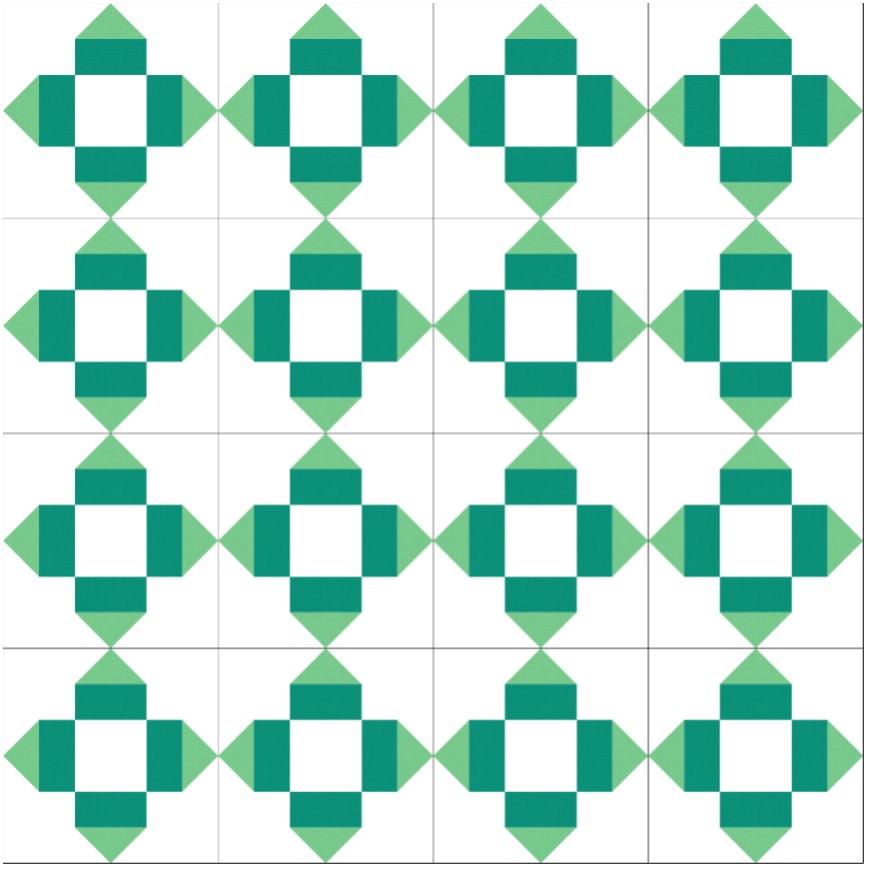 The standard grid layout creates a quilt that reminds me of a beautiful garden lattice design, with the negative space in between the block prints helping to emphasise the quatrefoil shape of the prints.
Playing with the fabric colours can create this really striking effect that reminds me of a playful plaid, or perhaps even a tartan. Just because a pattern has "background fabric" listed for certain shapes or parts of the design, doesn't mean you have to stick to that!
And of course we need to see what these blocks look like on point… And suddenly it looks like we have hourglasses rotating around the quilt! You can use the GO! Setting Triangles to help accurately cut the corner and edge triangles, although do remember that this pattern is for blocks that are 150% of the Qube size, so for these 12″ blocks made from the 8″ Qube, you will need the 12″ Setting Triangles die.
We can't wait to see your blocks and quilts! Feel free to share them with us on Instagram, tagging @BlossomHeartQuilts and @AccuQuilt_Australia, and using the hashtags #BlossomHeartQuilts and #ScrapBusterBlocks.
Alyce Blyth is a quilt pattern designer, teacher, blogger at Blossom Heart Quilts. She started quilting when her babies were little while her family lived in Japan for 4 years, and now uses her teaching degree for quilty purposes instead. You can find her book, Mini Masterpieces, quilting patterns and blog at www.BlossomHeartQuilts.com.